Texas Memorial Stadium Seating Chart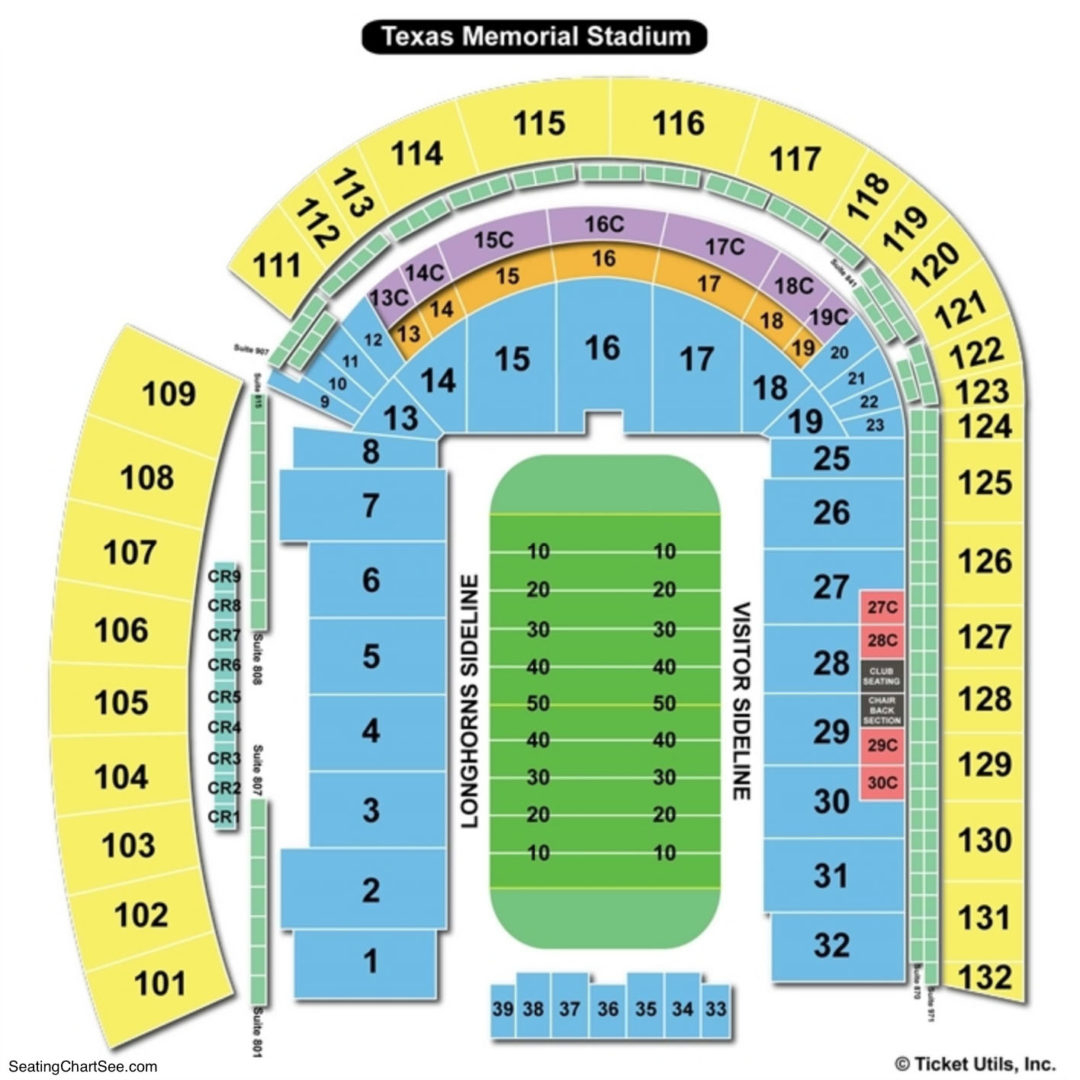 NOTE: Seating layouts may change depending on the type of event. Please check the individual seating chart when selecting your tickets.
Just like every other football stadium, the midfield seats are always the best seats other than the club seats. So, in Darell K Royal-Texas Memorial Stadium, Longhorns fans should purchase seats at Section 3-5 to enjoy the best view of the game. Where else, visitors fans should look out for seats in Sections 27-30.
Rental booths for chairbacks are located inside Gates 1, 7, 8, 25, 32, 104, 107 and 116.
Please be noted that personal chairbacks that do not have any pockets or zippers and do not exceed 12″ x 12″ x 18″ are permitted in the stadium.
Darrell K Royal-Texas Memorial Stadium features more than 100 luxury suites, each with spectacular views of the field and world-class amenities. These suites are:
East Side Suite
West Side Suite
Touchdown Club
Terrace Club
Texas Club
Centennial Suite
Ricoh Stadium Club
Champions Club
Longhorn Corral Club
Fans that purchase qualifying season tickets and contribute to the Longhorn Foundation Annual Fund gain access to one of the hospitality clubs above.
Reserve your seat today by ordering your tickets. Head over to the Upcoming Events page to get started.
For information on the ticket & refund policy please view the Texas Memorial Stadium ticket information page.
For all upcoming events at the Darrell K Royal Texas Memorial Stadium please check out the Texas Memorial Stadium events schedule.